Work
WIREFRAMES AND FLOWS Click image for sample, click PDF link to see all.
Please contact me at 416 433 0092to see recent work.
Wireframes
Music Site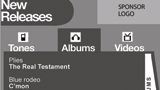 Revamp of large music site.
Variety of artist and music modules.
Pattern library development, Redot CMS.

View FULL Music Site 2.0 (16.9MB)
Festival Guide
CTV TIFF Grey Goose Festival Guide
UGC content seamlessly integrates with editorial

View FULL Festival Guide (1.3MB)
Web Site Registration
Wireframes
Formatted from egistration flows
Based on competitve analysis and cognitive walkthrough

View FULL Registration Wireframes (3.4MB)
Hand made
Blog with social.
Sketched wireframes during meeting.
User Flows
Registration User Flow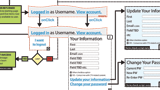 Depicts sign up: how the process is spawned and what happens after.
Created for dev based on competitve analyses and cognitive walkthrough.
Two flow samples.

View two flows (64KB)
Taxonomy
Functional Taxonomy for Intranet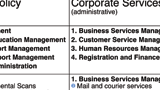 Partial functional taxonomy: Practice & Policy and Corporate Services
Based on the structure of the non for profit.
The PDF contains the executive summary and mapping to public site.

Executive Summary and Partial Functional Taxonomy (64KB)
ilana@isid.ca | 416 433 0092

View CV
© isid.ca 2000-2010